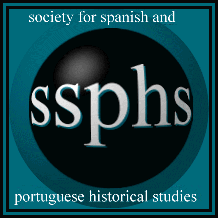 About This Site
---
This site has been established to serve members of the Society For Spanish and Portuguese Historical Studies and all others with an interest in the state of the Iberian Peninsula. It operates in cooperation with ESPORA, the Society's official forum, as well as other Iberian-related sites and discussion lists on this system and elsewhere, to provide a wide range of resources.
SSPHS-WWW is intended not only to afford access to information about the Society and its activities, but to provide an on-line research environment for the study of Iberian history and a workshop for those who might wish to develop skills and applications in computer telecommunications. As such, this site will be permanently under construction, and the Society solicits suggestions, recommendations, and materials to all who wish to contribute to its development.
It is the intention of the Society that SSPHS-WWW should develop in the direction of increased interactivity and that it should act as a central repository for graphic and text materials as well as software that might prove useful to students and scholars in the field.
The contents of this site, unless otherwise specified, are the property of the Society for Spanish and Portuguese Historical Studies. They may be freely disseminated electronically, provided that proper credit is given, that this notice and its accompanying logo remain intact, and that the material is not used for commercial purposes. For paper publication and/or commercial use of these materials, request permission from J. B. Owens .
SSPHS wishes to extend its thanks to the University of South Florida for providing the facilities that constitute the physical home of this web site.
Last modified, June 15, 2005
---
home +about this site +officers & committees + conferences + research funding +membership +espora +bulletin +links
Send comments and suggestions about the site to the Web Editors . The Web Editors will not answer queries about topics in Spanish or Portuguese history .